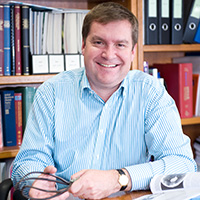 Professor Euan Wallace has been appointed as the new Head of the Obstetrics and Gynaecology Department at Southern Clinical School.

Regarded as a hero to expectant mothers at risk of losing a baby or giving birth to a child with cerebral palsy or organ damage, Professor Wallace succeeds the late Professor David Healy as O&G leader.

This new appointment is alongside Professor Wallace's ongoing role as Director of the Ritchie Centre, part of the Monash Institute of Medical Research (MIMR), both co-located at Monash Medical Centre.