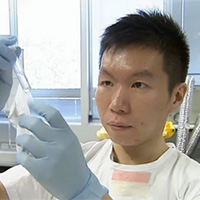 6 November 2013
Chinese-born immunologist Dr Di Yu has teamed up with researchers at Beijing's Peking University to isolate the "super" cell in the blood.
He said the cell was of great importance in medical science.
"It's very important because this cell can tell us why we respond differently to vaccine, why some people control better for infection and some people are worse in certain diseases," he said.
"Based on this knowledge, we can develop different vaccination strategies - maybe some people need not just two doses, but three doses, even four doses to have some protection but some people may only need the one dose."
The team has managed to track down the "B follicular helper T-cell", which effectively controls how other cells produce antibodies to fight infection.
The discovery could have big ramifications for the treatment and prevention of common ailments.
With this new knowledge, scientists are already working with pharmaceutical companies to find answers as to why some flu vaccines aren't as effective in the elderly as they are in the general public.
The cell is also crucial in understanding how to beat diseases like HIV, and other autoimmune conditions like rheumatoid arthritis and lupus.