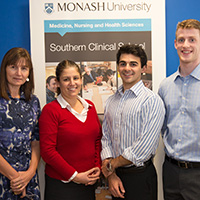 Michelle, Claire, Lukas, Nathaniel.
Two MBBS students at the Southern Clinical School have received top honours across the entire Year 3 cohort.
Lukas Sahhar and  Nathaniel Hiscock achieved their honours from a selection of the highest achieving Year 3 students across all Monash University clinical teaching sites, including Monash Health hospital sites, The Alfred, Box Hill and affiliated rural sites.
"I felt privileged to have spent my third year of Medical School at Monash Health, learning from Dr Sally Ayoub, Director of Undergraduate Medical Education, Associate Professor Michelle Leech and their fantastic team," said Nathaniel.
The students credit their success to the high calibre of teaching they receive at the Southern Clinical School at Monash Medical Centre, Dandenong and Casey Hospitals.
"Southern Clinical School lecturers and Monash Health doctors are expert teachers," said Lukas. "We are grateful for the involvement of all staff through clinical bedside teaching, case-based tutorials and class-based lectures and tutorials."
"The success of these students reflects the hard work of Dr Ayoub and her predecessor Associate Professor Leech, and Monash Medical Centre Clinical Dean, Dr Claire Dendle in building undergraduate medical education at Southern Clinical School and Monash Health," said Professor Eric Morand, Head of the Southern Clinical School.