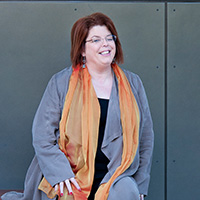 Professor Kim Cornish, Head of School at the School of Psychology and Psychiatry has received the SACS Award for Leadership in State Government and Statutory Authorities, Executive Nominees category.
The SACS Awards for Leadership are organised by SACS Consulting in partnership with Leadership Victoria. Awards are offered each year to recognise outstanding leaders.
Professor Cornish has been recognised for her innovations in education delivery and research excellence. She is regarded as one of Monash's leaders in transformational change.

The judging panel stated that they were impressed by Professor Cornish's superior leadership qualities and capabilities. In particular, they noted her ability to transform the School within a relatively short period of time, with clarity and focus, despite the significant challenges facing the University sector.

Professor Cornish joined Monash in 2009, from McGill University, Canada, as Head of Psychology and then in 2011 as Head of School of Psychology and Psychiatry. In this time, Kim, in collaboration with a strong senior leadership team transformed the School through a combination of academic strengthening, new world-class academic hires, and a refocus on outstanding education delivery. Within two years, Psychology at Monash was ranked from 35th to 27th in the world in Quacquarelli Symonds' World University Rankings.

"Our aim from the beginning was uncompromising. It is simply to be the very best in Australia and amongst the top 10 world-wide. I have a wonderful, talented team of colleagues who share this vision and together we have the passion to make this transformational change a reality, everyday".

Making tough decisions is a part of every Head of School's portfolio. As Professor Cornish explains:

"Making decisions that you trust are the right ones and following them through to the end is the most crucial component. If you are pushing through major changes you cannot back down when it gets tough. You need to be strong, decisive and sometimes courageous".
In leadership you can also expect not to be adored by all around you. However, as Professor Cornish notes:

"I love coming into work every day. I have met amazing colleagues who have changed my life and all around me are the fruits of our hard work. It's been really tough and not without pain, but to see the next generation of outstanding academics choose Monash above all others is priceless".