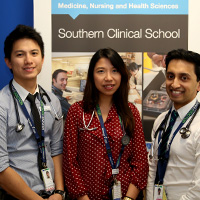 Monash University MBBS graduates achieved a record pass rate in their recent Royal Australasian College of Physicians (RACP) clinical exam at Monash Health.
The Monash Health class, predominantly Monash University graduates, achieved a remarkable 92%, with 23 out of 25 successful candidates, against a national pass rate of 70%.
"This is one of the highest results recorded," said Dr Henry Ma, Director of Physician Education at Monash Medical Centre.
The RACP clinical exam is for doctors who want to become consultant physicians (for example cardiologists, rheumatologists etc). Candidates are eligible to sit the clinical exam after passing a written exam and completing three years' basic postgraduate physician training.
"At Monash Health we offer a comprehensive physician training program with a major focus on career development, and in a supportive environment," added Dr Ma.
The strong teaching culture at Monash Health is led by senior staff and the Head of Division of Medicine, Professor Eric Morand, also Head of the Southern Clinical School at Monash University.
"Our large network of hospitals provides a variety of experience and exposure to many excellent senior medical staff and clinical cases," said Professor Morand.
Doctors who successfully pass the RACP exams may progress into a medical subspecialty of their choice.
Former Monash University Southern Clinical School student, Dr Chamara Basnayake credits the outstanding result to the collegiate environment amongst the physician trainee cohort and the supervision and training provided by the senior consultants.
"The consultants who trained me during my early clinical exposure as a medical student have continued to invest in my success, allowing me to acquire the clinical skills required to pass the RACP exams," said Dr Basnayake.
"The success of our program largely sits with Dr Henry Ma, Associate Professor Michelle Leech and Dr Darren Mansfield, who spent countless days ensuring we achieved the highest possible standards."
Dr Alex Tai, another Monash University MBBS graduate in the successful cohort, is particularly grateful for the support provided by senior staff at the Southern Clinical School.
"A special mention needs to go to Dr Henry Ma, who set the record this semester listening to nine of our long cases in a row, finishing at a mind numbing 11.30pm on a Friday evening," said Dr Tai.
With eighteen months' intensive study behind him, Dr Tai now plans to pursue a career in third world medicine, with a particular emphasis on infectious diseases and public health.
"It has been my privilege to teach many of these successful FRACP candidates when they were medical students at Monash University and at the Southern Clinical School," said Associate Professor Leech.
"We know that the Monash Health will continue to benefit from these outstanding doctors and that like all Monash graduates they will transmit this teaching excellence to subsequent generations of students and trainees."