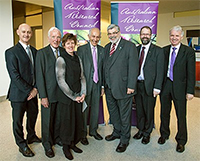 Progress on the bionic eye is set to continue, with the Federal Government announcing further funding for the Monash Vision Group.
Minister for Innovation, Industry, Science and Research the Honourable Kim Carr confirmed this week that the Australian Research Council (ARC) would continue to fund the research of both the Monash Vision Group and Bionic Vision Australia, which are developing different but complementary bionic eye technologies.
The chair of the Monash Vision Group Board, Professor David de Kretser AC of the Monash Institute of Medical Research, said: "The Monash Vision Group is delighted to hear that the Australian Research Council has agreed to extend the funding for the Monash approach to the development of a bionic eye.
"The additional $1.9 million will enable the project to continue to move forwards in taking some very exciting science to a product that has the potential in making a substantial contribution to the vision-impaired community. There has been great progress and the continued funding will facilitate progression to a completed product that has significant commercial prospects."
The Monash Vision Group recently unveiled the prototype Gennaris wireless device – a direct-to-brain bionic eye that will assist patients with damaged optic nerves. The funding continuation will allow further development and refinement of the device ahead of patient trials next year. The device could bring sight to up to 85 per cent of people who are clinically blind.
Researchers will seek further financial support from other sources beyond 2014, primarily through the National Health and Medical Research Council, philanthropic organisations and commercial investors.
The bionic eye projects are funded through the ARC's Special Research Initiative in Bionic Vision Science and Technology. This week's funding announcement extends the original grants awarded in 2010.