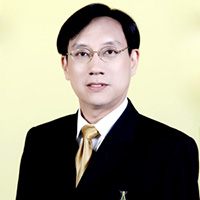 Monash alumnus, Associate Professor Dr. Chailerd Pichitpornchai, has been appointed President of Sukhothai Thammathirat Open University in Thailand.
After completing his PhD in Medicine in the Department of Physiology at Monash University, Associate Professor Dr. Pichitpornchai studied information technology and e-learning in the United States and Korea. In recent years, he has worked in quality assurance for higher education in Thailand and internationally.
Associate Professor Dr. Pichitpornchai has been a lecturer and senior administrator at Mahidol's Faculty of Medicine at Siriraj Hospital since 1986. In 2008 he was appointed Vice-President for Planning and Information Technology at Mahidol University, and in 2009, he also assumed responsibilities as the Director of the Division of Information Technology.