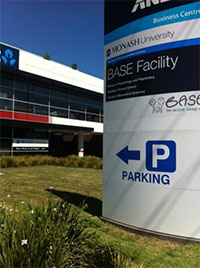 The Monash Nutrition and Dietetics Clinic, which provides services that help individuals manage a range of diet and nutrition issues including weight loss, diabetes and food intolerances, is being launched today.

The clinic offers a range of professional nutrition, dietetics and exercise physiology services to the general public as well as students and staff at Monash. It also provides student training. 

Co-founder and clinic manager Simone Gibson said the clinic aimed to understand and enhance the community's ability to reduce obesity, lead healthier lifestyles and have access to healthy foods.

"Food and nutrition is essential to human health. In Australia, obesity affects 63 per cent of adults and 25 per cent of children. Diabetes and obesity, among other chronic conditions, are reaching epidemic proportions and the concerning thing is that this trend is largely preventable," Ms Gibson said.

The services offered at the clinic are underpinned by research that translates into practice and extends to the education of health professionals and the community.

"The clinic provides expert nutrition and dietary advice to treat and assist people to manage a range of health conditions including irritable bowel syndrome, breastfeeding and diabetes, as well as those who wish to improve their general health and well-being.

"As part of our service, clients may receive advice for healthy eating as well as analysis of current eating patterns, cooking classes, educational resources and information regarding their condition and diet support to help achieve goals."

Appointments can be made directly with the clinic and there is no need to have a doctor's referral.

The clinic was initiated through the Southern Clinical School and is partly funded by Health Workforce Australia and the Victorian Department of Health.

The Monash Nutrition and Dietetics Clinic is part of the BASE Be Active Sleep & Eat facility, recently launched at Monash. The state-of-the-art facility is dedicated to advancing translation of the science of nutrition, sleep and physical activity to enhance the health of Australians. It encapsulates research and education in the areas of nutrition (Department of Nutrition & Dietetics), sleep (School of Psychology & Psychiatry) and exercise and activity (Department of Physiology and Department of Physiotherapy) within the Faculty of Medicine, Nursing and Health Sciences.

Launch proceedings and a tour of the research lab will be held from 3.30-6.30pm today. All are welcome to attend.

The Monash Nutrition and Dietetics Clinic is located within the BASE facility - Level 1, 264 Ferntree Gully Road, Notting Hill.

For further information, visit the Monash Nutrition and Dietetics Clinic website.