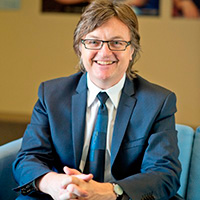 Leading clinicians from the Asia Pacific region met in Melbourne last weekend to advance research into lupus, an autoimmune disease that causes the body's immune system to attack vital organs.

Professor Eric Morand, founder of the Monash Lupus Clinic and Head of the Southern Clinical School, chaired the meeting, which addressed the opportunities, priorities and needs in lupus research that could be targeted through regional collaborations.

The group, known as the AsiaPacific Lupus Collaboration (APLC), has proposed a new method to assess how lupus patients respond to treatment, called the Lupus Low Disease Activity State (LLDAS). 

Professor Morand said a multinational study of up to 2000 patients would be carried out to validate the LLDAS, which could then be used to assess and compare novel therapies.

"There is a great unmet need to increase our understanding of lupus both clinically and at the molecular level," Professor Morand said.

"There is huge potential of regional collaborations to contribute to global knowledge in this disease, as Asian patients in particular have more frequent and more severe lupus."

Specialists from China, Philippines, Hong Kong, Thailand, Singapore, Indonesia, Malaysia, Taiwan and Australia attended the meeting.