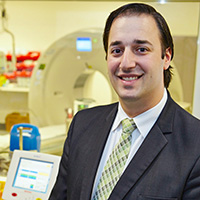 A Monash researcher has been awarded the prestigious 2013 Victoria Fellowship for a study into the diagnosis of cardiomyopathy, one of the most common causes of heart disease.

Dr Arthur Nasis from the Southern Clinical School was awarded the Fellowship in the life sciences category to undertake further study and research overseas.

Dr Nasis will research the use of a cardiac magnetic resonance imaging (MRI) technique known as equilibrium-contrast imaging to detect and quantify heart fibrosis, a condition leading to cardiomyopathy.

Detecting fibrosis, or scarring, is important not only for diagnosis of cardiomyopathy, but also as a potential treatment target.

"Equilibrium-contrast cardiac MRI may revolutionise the way that cardiac disease is diagnosed," said Dr Nasis. "This has several important implications for patients who present with suspected or known cardiomyopathy."

Dr Nasis' research into the non-invasive MRI imaging technique may lead to earlier and more accurate diagnosis and better treatments for cardiomyopathy.

"Developing diagnostic techniques such as this may represent a cost-effective paradigm shift in the assessment of cardiomyopathy and other cardiac disease," said Dr Nasis. "And earlier diagnosis will result in earlier and more targeted treatments."

"Such measures may also reduce the significant health care costs associated with cardiomyopathy, a common cause of death in Australia," added Dr Nasis.
Dr Nasis will undertake his research at the renowned Heart Hospital, London and University College London.
"I am excited by the opportunity to continue my training program in a word-class research institution," added Dr Nasis, "and I am humbled that the Victorian Government has invested in my work."
"The opportunity to broaden my experience and develop new skills will be invaluable in my career development as a cardiologist and clinical scientist, and I aim to bring these skills and knowledge back to Victoria which I hope will lead to better outcomes for our patients."