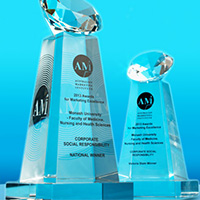 'Hands on Health', an innovative social inclusion program delivered by the Faculty of Medicine, Nursing and Health Sciences has been recognised through a prestigious national award.
The Australian Marketing Institute presented its national award for marketing excellence in the category of Corporate Social Responsibility to 'Hands on Health' at a ceremony held in Sydney on Wednesday. Although not originally entered at national level due to the localised nature of the program, a win in the Institute's state awards for Victoria three weeks prior resulted in 'Hands on Health' automatically being nominated for the higher national award, where it was judged along with five other finalists from across Australia.
'Hands on Health' seeks to improve the level of health care available in marginalised communities in the Dandenong region, particularly amongst refugees, and focuses upon making tertiary health and biosciences education a viable and desirable option for secondary school students at seven partner secondary schools in Greater Dandenong. Indigenous and regionally-based students are also targeted within the wider program.
"Gaining recognition through awards is not what drives the 'Hands on Health' team," said Director of Marketing and Communication, Clint Rodgers, who accepted the award on behalf of the Faculty. "Getting disadvantaged kids into Monash and other universities to pursue careers in health care, and ultimately back into their communities as skilled practitioners, that's what it's about. But it's nice to gain recognition that gives us even more credibility in seeking future funding."
Rodgers praised the Dean, Professor Christina Mitchell, and PVC Social Inclusion, Professor Sue Willis, for making 'Hands on Health' possible. "Chris and Sue backed the program without hesitation and have personally put themselves at the forefront of representing Monash in the broadening participation in education space", he said. "Sue's team was instrumental in getting us the Australian Government's Higher Education Participation and Partnerships Program funding to make this happen."
"The involvement of Monash Health as the clinical experience partner can't be overstated either," Rodgers added. "The work of people like Associate Professor Andrew Block and Gina van de Berg has made Dandenong Hospital the epicentre of exposing these kids to careers in health care amongst their own communities."
More information on 'Hands on Health' is available from the program website: www.handsonhealth.org.au.