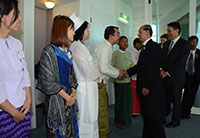 In his recent visit to the Australia, as part of a broader re-engagement strategy, Myanmar President Thein Sein met with a number of Myanmarese students, currently on Australia Awards scholarships.
Monash University PhD student Dr Soe Htet is one of those on the scholarship program who had the opportunity to meet with President Sein at Parliament House last month.
Dr Htet is a Deputy Director in the Department of Health Planning of the Ministry of Health in Myanmar. He is currently at Monash on a four-year Australian Leadership Award Scholarship, studying for a PhD.
Dr Htet hopes to gain insights into Australian and global approaches to maternal and child health systems, and public health leadership, as well as establish longer-term connections in Australia and globally.
Dr Htet said the scholarship would provide him with some of the skills needed to contribute to development and reform in his country.
"The main reason for my meeting with President Thein Sein was to present and advocate my area of study and future visions for my return back home," Dr Htet said.
"There are many barriers in maternal and child health in Myanmar that need to be overcome with an acceptable and affordable health care system. It is time to establish and develop a community based health insurance system and demand side financing strategies in Myanmar, targeting the poor, pregnant mothers and their newborn children. 
"This scheme provides financial assistance through hospital supervisory committees and enables them to receive quality health care resulting improved maternal and child health status in Myanmar."
In his speech President Thein Sein discussed Myanmar's changes in Political and Economic reform and Human Resource management with the view that Dr Htet will return to Myanmar to help coordinate areas of priority.