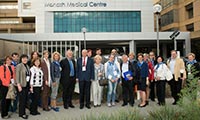 A delegation of paediatricians from Russia's Scientific Centre of Children Health has visited Monash University to reinforce connections made within the M8 Alliance.

Following attendance at the International Paediatrics Conference 2013 held in Melbourne, 25 members of the Moscow-based organisation visited the Monash Medical Centre, a clinical teaching hospital of Monash University in partnership with Australia's largest health care network, Monash Health.

Led by Professors Alexander Baranov and Leyla Namazova-Baranova, representing M8 Alliance member, the Russian Academy of Medical Sciences, the visiting delegation received briefings on research advances at Monash University. Professor Nick Freezer, head of paediatrics, and Professor Euan Wallace, head of obstetrics and gynaecology, and a well known participant in World Health Summit programs, updated the Russian delegation on issues including pre-term health and the new Monash Children's Hospital.

Education for future paediatricians was a feature of Professor Freezer's presentation, contrasting the various options available through Monash University with practices in Russia.

The session at Clayton reciprocated a very warm M8 partner welcome provided to Monash and M8 Alliance marketing director Clint Rodgers and relationship manager Svetlana Khalif during their visit to Moscow during 2012.

Monash University is in discussions with a number of Russian institutions initiated during the World Health Summit, and is looking forward to the prospect of collaboration in research and education with partners affiliated through the Russian Academy of Medical Sciences.