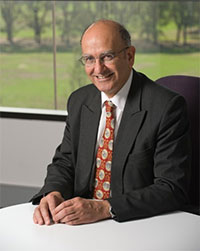 Leading researchers will pay tribute to the work of Emeritus Professor Hatem Salem AM, of the Australian Centre for Blood Diseases, at a dedicated symposium this week.
Prior to his retirement at the end of 2012, Professor Salem was a highly respected clinician and researcher in blood disorders with a focus on thrombosis (clotting problems) and haemostasis (the body's processes for stopping wounds from bleeding). He was the driving force behind the establishment of the Australian Centre of Blood Diseases.
In 2010, Professor Salem was awarded the Member of the Order of Australia for service to medicine in the field of haematology as a clinician, educator and researcher. He was honoured with the 2011 David de Kretser Medal for contributions to the Faculty of Medicine, Nursing and Health Sciences and to medical science generally.
To be held this Friday at the AMREP Lecture Theatre near The Alfred, the Symposium will feature speakers including Dean of Medicine, Nursing and Health Science, Professor Christina Mitchell, former Governor of Victoria, Professor David de Kretser, Sir Gustav Nossal and a host of other leading researchers.
The day will conclude with a presentation to Professor Salem.
Professor Salem said he was honoured and extremely humbled by the occasion.
"Monash University and The Alfred hospital have been my life," Professor Salem said.
"The day will be a wonderful opportunity to reminisce and celebrate not just my achievements but those of many others who I had the pleasure to work with and help them in their career."
Professor Salem is a Fellow of the Royal Australasian College of Physicians and the Royal College of Pathologists of Australasia, a licentiate and member of the Royal College of Physicians (UK) and a member of the Royal College of Surgeons (London). He is continuing his association with Monash as an Emeritus Professor.
The 2013 Festschrift for Professor Hatem Salem AM will be held from 9:30am - 4pm at the AMREP Lecture Theatre, between 75 & 85 Commercial Road, Melbourne.