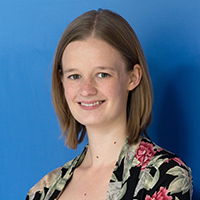 28 November 2013
MBBS graduand Genevieve Martin has been honoured as recipient of the prestigious John Monash Scholarship for 2014.
Previously a Monash Distinguished Alumni Student Award recipient, Ms Martin was chosen from a field of highly competitive applicants for this postgraduate scholarship that fosters leadership, expertise and international networks, and builds Australia's capabilities for the future.
Ms Martin has a Bachelor of Medical Science and has been active in Science and Biology Olympiads, debating and drama throughout her studies at Monash University.
The John Monash Scholarship with its poignant connection to Monash University is the latest in an impressive list of achievements by the MBBS student, whose outstanding contribution and academic record has resulted in a number of awards including the June Howqua Scholarship (2013), Monash Global Scholarship (2013) and Bachelor of Medicine and Bachelor of Surgery Year Two Prize (2010).
In 2009 Ms Martin was selected for the Vice-Chancellor's Ancora Imparo Program, in addition to her volunteer efforts within the Monash MBBS Student Mentorship Program, the Australian Medical Student Journal and the Teddy Bear Hospital project.
"I am absolutely thrilled to receive this scholarship and am excited about the opportunities it will afford me," said Ms Martin. "It is humbling to be in the same company as previous recipients of this scholarship who have gone on to make outstanding contributions to society."
The John Monash Scholarship will allow Ms Martin to study towards a Doctor of Philosophy at The University of Oxford where she will further her research career in virology.
My research will focus on strategies for HIV eradication and will equip me with the skills to pursue a research career," said Ms Martin. "Infectious diseases particularly interest me because of the diversity of illnesses, the public health implications and the close integration of research and clinical practice."
"Ms Martin was an outstanding candidate for the John Monash Scholarships," said Dr Peter Binks, CEO General Sir John Monash Foundation. "Most importantly, our panel believes she will make a major contribution to addressing infectious diseases, both in Australia and in the global community."
Ms Martin has just completed her MBBS degree and will graduate next month. She will undertake an internship at Alfred Health next year before commencing her studies at The University of Oxford in 2015.
In the long term I would like to become a clinician scientist, combining specialist clinical practice with teaching and research," added Ms Martin. "After completing my DPhil I intend to return to Australia to complete specialist training as an infectious diseases physician."