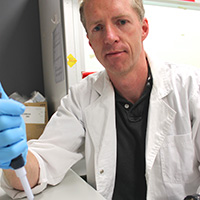 Monash Institute of Medical Research's Associate Professor Brendan Jenkins has been selected to participate in the Australia Japan Emerging Research Leaders Exchange Program (ERLEP) and as a result, will be heading to Japan in March to investigate potential collaborative projects.

A/Prof Jenkins, who works in MIMR's Centre for Innate Immunity and Infectious Diseases, will travel to Japan from 4-15 March under this exchange, attending universities and hospitals and focusing on his research area of stomach cancer.

The Australia Japan Emerging Research Leaders Exchange Program (ERLEP) is an important international collaborative program designed to establish individual and institutional science and technology research linkages between Australia and Japan.

It targets both Japanese and Australian mid-career researchers, who are emerging leaders in the Science and Technology community.

A/Prof Jenkins' work was published in the prestigious journal Cancer Cell in October last year in which it revealed his team might have found a way to block a gene fuelling tumour growth in about a quarter of stomach cancer cases, paving the way for a new treatment for one of the world's deadliest cancers.

"My work in this area has involved close collaboration with Kanazawa University because stomach cancer is the second most common (and deadly) cancer in Japan, and the world for that matter," A/Prof Jenkins said.

"The exchange means I'll be meeting up with leading clinicians and scientists there, and also in Tokyo and Kyoto to discuss joint future research and funding opportunities."

The next phase of A/Prof Jenkins' groundbreaking research involves clinical trials, which are likely to be held largely in Asia and Europe.

The exchange program, which commenced in 2010, is funded by the Australian Government and the Japanese Society for the Promotion of Science (JSPS) and administered by the Australian Academy of Technological Sciences and Engineering (ATSE) and the Engineering Academy of Japan (EAJ).
Eight promising Future Leaders are selected by a peer nomination process with merit-based assessment, ensuring the best emerging mid career researchers are involved.