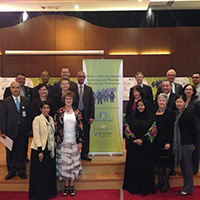 Interdisciplinary learning and practice in health care professions was the theme of a symposium held last month in the United Arab Emirates, further strengthening an agreement between Monash and Fatima College of Health Sciences (FCHS). 

Ten delegates from Monash University, representing physiotherapy, radiography and pharmacy, participated in the event last month at FCHS in Abu Dhabi. 

Associate Professor Marilyn Baird and Cynthia Cowling from Monash University's Department of Medical Imaging and Radiation Sciences led workshops that brought together leaders of the UAE's allied health professions.

Monash University is seen as a key facilitator, integral to the development of allied health teaching in the UAE.

Under a six year agreement, FCHS will gain access to Monash curriculum for courses in physiotherapy, medical imaging, pharmacy and emergency health (paramedics) to meet the future health care workforce needs of Abu Dhabi.

At the recent symposium, key note speakers from the UAE, including Dr Mohammed Hag-Ali, Director of FCHS outlined the challenges in developing interprofessional learning and practice.  Dr. Zahra Saeed Baalawi provided insight into medical education in the UAE while Mr. Bengt Ternstrom, CEO of the Rashid Center for Diabetes and Research, gave a comprehensive assessment of how to develop interprofessional relationships.

Ongoing collaboration at such events is enabling FCHS to deliver quality programs while becoming recognised as a leader in health sciences education in the region.