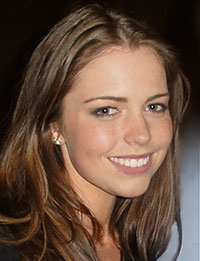 A Monash Bachelor of Medical Science (Honours) student has won the best Allied Health Presentation Award and a travel grant for her study of early pregnancy glucose screening guidelines at the recent Australasian Diabetes in Pregnancy Society Meeting.
As the demographics of obstetric populations change, more pregnant women are at risk for unrecognised diabetes. Katherine Allnut's research at the Ritchie Centre, Monash Institute of Medical Research (MIMR), provides essential data supporting the implementation of expert guidelines for diabetes screening in early pregnancy.
"Local and international guidelines acknowledge the importance of identifying these women but no validated screening strategies currently exist for early pregnancy," said Ms Allnut. "My research highlights the need for an alternative screening approach, as well as the significant implications for resource allocation in adopting these new guidelines."
Supervised by Professor Euan Wallace, Head of the Department of Obstetrics and Gynaecology at Southern Clinical School and Clinical Associate Professor Carolyn Allan, Ms Allnut was a part of the team implementing a new protocol for diabetes screening in early pregnancy. She will evaluate the performance of this screening tool as part of her research.
"With the ethnic diversity of antenatal populations at Monash Health, and as maternal age increases and more women begin pregnancy at a higher than ideal weight, it is likely that some women will enter pregnancy with unrecognized abnormalities in blood glucose," said Associate Professor Allan. "This has implications for both mother and baby."
"I was drawn to this project as it is an area with very limited evidence, yet the effects on mothers and their babies can be far-reaching," said Ms Allnut. "I am hopeful that earlier identification of these women at risk will ultimately translate to improved maternal and fetal health outcomes."
Ms Allnut presented her findings at the Australasian Diabetes in Pregnancy Society's annual conference in Sydney last month.
Katherine Allnutt is the Monash Diversity and Social Inclusion Resident Adviser and a recipient of the Monash PSA Insurance Medical Science Scholarship.