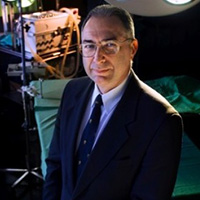 One of Australia's most distinguished neurosurgeons, Professor Jeffrey Rosenfeld AM OBE, has been appointed Adjunct Professor in Surgery at the prestigious Hébert School of Medicine in the US.
Professor Rosenfeld, Head of Monash University's Department of Surgery and Director of the Department of Neurosurgery at The Alfred hospital, was appointed Adjunct Professor in Surgery at the F. Edward Hébert School of Medicine, Uniformed Services at the University of The Health Sciences (USUHS).
This is a rare opportunity for a non American and will help Monash University to build collaborative research links with the prestigious American medical school.
"This is a very significant appointment and I am very honoured to receive it," Professor Rosenfeld said.
"This gives us an opportunity to create a more formal relationship with a leading American medical school and link research projects where there's a common interest, for instance in traumatic brain injury which will value add to both universities."
In 2009, the University awarded Professor Rosenfeld the coveted Michael E DeBakey International Military Surgeons' Award for excellence in military surgery.
The F. Edward Hébert School of Medicine focuses strongly on military and public health medicine, aligning with Professor Rosenfeld's expertise as a military surgeon.
Professor Rosenfeld is a Major General in the Australian Defence Force and as one of Australia's most senior and experienced military surgeons has undertaken tours of duty in Rwanda, Bougainville, Solomon Islands, East Timor and Iraq.
"As a military surgeon, I am delighted to be appointed to the staff of this university because it is training military health personnel and undertaking a wide range of research in military medicine. There's a synergy between military medicine in Australia and the USA - our military missions are closely aligned," Professor Rosenfeld said.
"It's important to develop this collaboration on the academic front as well as our military coalition. I hope to engage with some of their medical student training as well."
During a career spanning more than three and a half decades, Professor Rosenfeld has become a leader in his field developing an international profile for his work treating and managing neurotrauma.
He is currently clinical leader of the team at Monash University working on the development of a bionic vision device that could potentially restore some sight to millions of blind people around the world. Earlier this year, he was awarded an Officer of The Order of the British Empire (OBE) for his voluntary work in Papua New Guinea.
In addition to his OBE, Professor Rosenfeld received a Member of the Order of Australia in 2011. His other awards include the Centenary Medal of Federation, the Rotary Club of Melbourne's Monash Medal, Victorian of the Year, the King James IV Professorship and the Syme Professorship from the Royal College of Surgeons of Edinburgh.