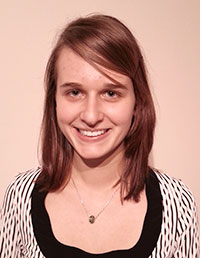 Potential treatment for couples with multiple failed IVF cycles is the significant outcome of award winning research undertaken by Monash medicine student Natasha Pritchard.
In the final year of her studies, Natasha Pritchard has been awarded Best Clinical Paper at a recent Fertility Society of Australia meeting for her case control study of antioxidant therapy in patients with multiple failed IVF cycles.
Ms Pritchard presented a pilot case control study on melatonin, an antioxidant, and its use in IVF patients.  Her findings show melatonin may lead to higher quality eggs which could improve pregnancy rates.
"Completing this pilot study has been a great personal achievement," said Natasha Pritchard. "Realising my contribution may have made a difference to scientific knowledge – and possibly clinical practice – is extremely rewarding."
"Natasha's research, even though it is preliminary, may mean that there may, finally be a potential treatment for couples with multiple failed IVF cycles," said her supervisor, Professor Vollenhoven, from the Department of Obstetrics and Gynaecology at Southern Clinical School.
"Natasha has been an excellent student to supervise," added Professor Vollenhoven. "She should be a shining example to other students. Hard work can achieve positive results."
Research is a team effort, and Natasha Pritchard acknowledges the support and guidance she has received from Monash IVF.
"I have had the best team beside me, including Professor Beverley Vollenhoven, the mastermind behind the project and embryologist Kelli Sorby, with her lab knowledge and biostatistics skills," said Natasha Pritchard. "Dr Tiki Osianlis has supported me with high level research expertise."
After completing her MBBS, Natasha Pritchard plans to pursue a career in Obstetrics and Gynaecology.
She will continue her research into infertility, with planned presentations at the American Society of Reproductive Medicine meeting in Boston next month and the British Fertility Society next year.