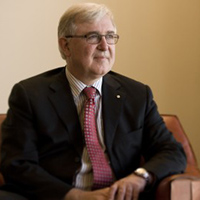 26 November 2013
The extraordinary achievements of industry leaders, research pioneers and community role models have been recognised with Fellowships from Monash University.
At a ceremony in Melbourne last night, distinguished leaders of various fields, from business to sport, and education to the arts, were acknowledged by the University with the presentation of seven Fellowships and three Honorary Fellowships.
Honorary Fellowships were bestowed upon The Honourable John Coldrey QC, a former defence barrister and teaching fellow at Monash, retired psychologist Mr Robin Coventry, who was also long time Monash staff member and Ms Evonne Goolagong Cawley AO MBE, former Australian world number one tennis player and 1971 Australian of the Year.
Fellowships recognising Monash Alumni were presented to ABC radio broadcaster Jon Faine, Victorian State Coroner The Honourable Justice Jennifer Coate, Ms Lesley Gillespie OAM, co-founder of the highly successful Bakers Delight franchise, iconic GP and celebrated author Professor John Murtagh AM, former Caulfield Grammar principal Stephen Newton AO, celebrated Australian author and barrister Mr Elliot Perlman and Mr Chris Wardlaw PSM, recent retiree of the Victorian Department of Education and Early Child Development and former head coach of the Australian Track and Field team.
The Monash University Fellowship is an honour awarded by the Council of the University in recognition of the achievements that alumni have made and continue to make through their professional distinction and outstanding service. Honorary Fellowships are awarded to individuals who are not Monash graduates.
Vice-Chancellor and President Professor Ed Byrne congratulated the recipients on behalf of the University.
"I am delighted that we have been able to acknowledge the distinguished contribution made by these individuals representing various walks of life," Professor Byrne said.
"The achievements of each of the recipients serves as an inspiration to the Monash community. Our Fellows highlight the University's continued ability to attract some of the best and brightest, and they embody our hopes for Monash graduates.
"The success of our alumni, staff and the broader community demonstrates the University's commitment to making a difference and achieving an enviable global reputation for research and teaching."