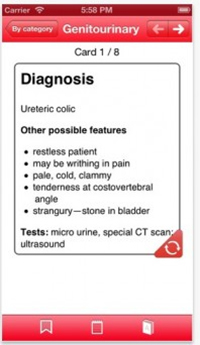 With a modern twist on the classic learning tool of flashcards, a new smartphone app will help medical students and GP's build memory and diagnostic skills covering general medicine. 
Developed by iconic GP and celebrated author
Professor John Murtagh
, the app offers more than 500 diagnostic flashcards that allow users to enhance their knowledge and quiz themselves on a variety of topics relating to virtually every known medical condition, common and uncommon, covering all disciplines of medicine.
Now available for iPhone and iPad
, the app is an innovative study tool allowing medical students, GP registrars and interns within any healthcare setting or organisation to retrieve information with speed and efficiency.
It is believed these are the first medical flashcards to be developed in Australia.
The content is based on Professor Murtagh's 1535-page book
John Murtagh's General Practice
, published in 1994, the seminal reference for medical students and professionals. The preeminent GP's text has been adopted widely both in Australia and Asia and is the highest selling medical textbook of the past 20 years.
"I have a set of hand written cards-now 45 years old and was hoping the publishers would re-produce the set of cards. They went with the apps and it's a brilliant idea," Professor Murtagh said.
"The new app gives students and health professionals the most up-to-date information, based on our research."
Professor Murtagh is based in Monash University's
Department of General Practice
.
For further information or to download the app, visit the
Apples iTunes store
.