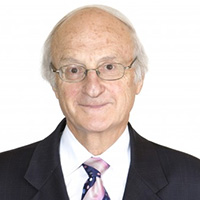 15 November 2013
International diabetes and obesity expert, Professor Paul Zimmet AO was awarded The Peter Wills Medal at the Research Australia awards earlier this week.
Professor Zimmet from Monash University's Department of Biochemistry and Molecular Biology was recognised for his outstanding contribution to building Australia's international reputation in health and medical research, and fostering collaboration for better health. Professor Zimmet is also Director Emeritus at Baker IDI Heart and Diabetes Institute.
The award came on the eve of World Diabetes Day (Nov 14), with Professor Zimmet acknowledged for raising the awareness of diabetes as an international public health emergency and helping to enhance the understanding of diabetes, improved care and prevention in many nations around the world.
Professor Zimmet has devoted his life to the research, education and care of people with diabetes. He was awarded the Officer of the Order of Australia (AO) for distinguished services to medicine, nutrition, and the biotechnology industry in 2001.
Professor Zimmet's pioneering work in Pacific and Indian Ocean nations has been pivotal in informing the global growth of diabetes. His epidemiological research covering many ethnic groups in Australia, and Pacific and Indian Ocean nations, has contributed to the classification and diagnostic criteria for diabetes and improved understanding of the genetic-environmental and behavioural components of type 2 diabetes.
He has served on many national and international diabetes committees, most notably for the World Health Organisation and for the International Diabetes Federation (IDF). In 2010, he received the Grand Hamdan International Prize for Medical Sciences in the field of Diabetes Academy of Medicine.
In 2011, Professor Zimmet was elected Honorary President of the IDF "in recognition of service to the International Diabetes Federation and the diabetes cause". He was also elected Chair of the Program Committee for the World Diabetes Congress 2013, which will be held in Melbourne next month. The Congress is expected to attract over 9000 delegates and will be one of the largest health congresses ever to come to Australia.
Professor Zimmet spearheaded a landmark Australian study on diabetes, obesity and lifestyle (AusDiab), the largest national study in any developed nation to do glucose tolerance testing on all subjects. He has campaigned tirelessly for government support towards tackling the diabetes epidemic, and served as one of nine Commissioners selected by Australia for the National Preventative Health Taskforce for Tobacco, Alcohol and Obesity.
Professor Zimmet has also been a key advocate in highlighting the plight of Indigenous communities when it comes to chronic diseases and has played a central role in supporting the development of the Institute's Indigenous health research unit.
Previous winners of The Peter Wills Medal include Sir Gustav Nossal AC and Professor John Shine AO.