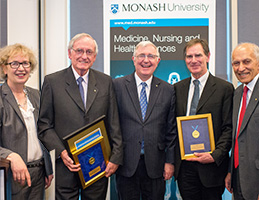 11 December 2013
Two of Australia's most esteemed medical scientists have been honoured with this year's David de Kretser Medal and Lifetime Achievement Award.
Recognising the long-standing contribution of the former Governor of Victoria to the Faculty of Medicine, Nursing and Health Sciences, the annual David de Kretser Medal recognises outstanding long-term contributions to the Faculty and to medical science in general.
Dean of the Faculty, Professor Christina Mitchell announced Professor Stephen Holdsworth, an acclaimed nephrologist, clinical immunologist and scientist, as the recipient of the 2012 Medal at last night's ceremony in Melbourne in front of the Chancellor of Monash University, Dr Alan Finkel, and the President and Vice-President, Professor Ed Byrne.
Professor Holdsworth's lifelong research has focused on the mechanisms in immune glomerular injury relevant to understanding and treating human glomerulonephritis (GN), a major cause of end stage renal failure.
The Lifetime Achievement Award celebrating an individual who has made an outstanding contribution both nationally and internationally to human health and wellbeing, was awarded to the acclaimed researcher, Professor Jack Martin.
Emeritus Professor of Medicine at The University of Melbourne and former Director of St Vincent's Institute of Medical Research, Professor Martin is regarded as the founder of skeletal research in Australia, and his research has had a major impact on the understanding and treatment of diseases including osteoporosis and bone tumours, and the spread of cancers to the bone.
"This award came as a great surprise to me," said Professor Martin. "My achievements are owed to the great colleagues and students I have had over my whole career, to exceptional mentors and to my very supportive family."