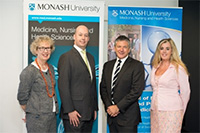 An innovative telemedicine initiative will improve access to treatment for Cystic Fibrosis (CF) patients in regional settings.

Technology Minister Gordon Rich-Phillips today officially launched the Regional Cystic Fibrosis e-Health & Telemonitoring Program – a new pilot project funded by the Victorian Coalition Government Broadband Enabled Innovation Program and being delivered by Monash University. 

The project is designed to remotely monitor patients at home and deliver more services online. It aims to reduce specialist and hospital visits for those living with cystic fibrosis. 

Head of the Cystic Fibrosis Service at AlfredHealth Professor John Wilson, from Monash University's Department of Medicine, led a team of researchers in the development of the project.

"Healthcare is resource intensive, and for the higher standard of healthcare demanded by the Australian community, we must explore new and innovative strategies," Professor Wilson said.

"Telemedicine is an opportunity to provided better access, improved monitoring and prolonged treatment courses for many patients who would otherwise be dependant on hospital care.

"The cutting-edge of telemedicine lies in the ability to monitor many conditions in the home environment using high-speed broadband. The Monash team have accomplished this by providing healthcare solutions suitable for implementation within the Australian community."

Mr Rich-Phillips said the Regional Cystic Fibrosis e-Health & Telemonitoring Program would leverage the high-capacity broadband being rolled out across regional Victoria. 

"The project will develop new technology to allow information, including care plans, radiology images and video-consultation, to be viewed by patients at home," Mr Rich-Phillips said. 

"It will also create an online patient portal so patients can participate in their own treatment programs." 

Other project partners include Monash Medical Centre, Royal Children's Hospital, Alfred Health, Cystic Fibrosis Victoria, SmartHealth Solutions, Attend Anywhere and Riskman International. 

Cystic Fibrosis is the most common life threatening genetic disorder in Australia, There is no cure for the condition currently affecting almost 3000 people in Australia.