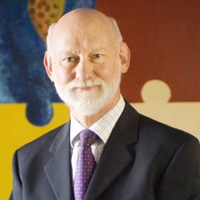 A conference co-hosted by Monash University will gather the world's leading experts in family intervention in an event that could transform the lives of children internationally.
The Helping Families Change Conference, to be held in Sydney in February 2014, is regarded as one of the world's most important annual events for family support services researchers, policy makers and practitioners.
One focus will be the collaboration between Monash and the Universities of Sydney and Queensland, on a major study involving programs for parents of children with disabilities.
Study co-leader, Emeritus Professor Bruce Tonge of Monash University's Centre for Developmental Psychiatry and Psychology, said the research aims to improve the emotional and behavioural problems associated with mental illness in children with developmental disorders and break down the sense of isolation and stigma often experienced by their parents.
"Evidence shows that properly implemented, quality parenting programs can lead to educational advantages, lifelong success and good peer relationships for children who have a disability," Emeritus Professor Tonge said.
"Our research has shown that children with an intellectual disability have at least three times the rate of serious mental health problems and that helping their parents understand how to better manage and respond to these difficulties leads to significant improvements in the child's behaviour and improves parent and family wellbeing."
Conference organiser John Pickering, of UQ's Parenting and Family Support Centre, said the conference would focus on how programs that aim to normalise parenting support can help at-risk families.
"Over the past 30 years the Triple P – Positive Parenting Program – has set out to ensure accessing parenting support has become a normal process for families," Mr Pickering said.
"Governments in Australia and overseas now realise that these types of approaches are the most effective means of preventing child abuse and neglect. This is at the heart of what next year's conference is all about."
Jointly staged by the three universities and the NSW Department of Families and Community Services, the conference will feature the latest research in family intervention studies and practical workshops to apply new knowledge to hands-on skill development.
Founder of the Triple P program, UQ's Professor Matt Sanders, will present a master class on working with complex families who need tailored support. Other leading international experts, such as Professor Patricia Howlin from Kings College in London and Dr Patricia Kohl from Washington University in St Louis, will also present their work.
For more information on the conference, visit the Helping Families Change website.