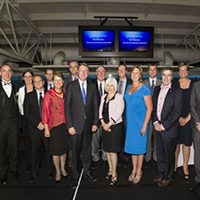 20 November 2013
The talent and dedication of some of the University's outstanding staff members have been recognised at the annual Vice-Chancellor's Education and Research Awards.
The awards ceremony, held in Melbourne last night, recognised and celebrated the outstanding contribution and achievements of educators and researchers from across the University with disciplines from pharmaceuticals to mechanical engineering represented by the 11 award recipients.
Pro Vice-Chancellor (Research), Professor Pauline Nestor, announced the four research honours awarded for postgraduate supervision, excellence in research by an early-career researcher and excellence in innovation and external collaboration.
Challenges such as improving human health through the development of new imaging technology to investigating how the body interacts with drug treatments, in research that could lead to more targeted drugs with fewer side effects, are being addressed by award recipients. The five Education awards announced by Pro Vice-Chancellor (Learning and Teaching), Professor Darrell Evans, recognised teaching excellence, excellence in honours supervision and programs that enhance learning.
Exemplary educators representing diverse learning programs received awards - from Dr Kris Ryan, Faculty of Engineering, for novel teaching techniques that engage students, to Dr Leonie Kronborg, Faculty of Education, for outstanding leadership in teaching and research.
Victorian Premier The Hon. Dr Denis Napthine was keynote speaker at the ceremony attended by more than 200 dignitaries including representatives from industry, State and Commonwealth Government, Monash University management and award nominees. Vice-Chancellor Ed Byrne congratulated award recipients on behalf of the University.
"The standard of nominations and the breadth of talent represented by this year's recipients highlights the level of excellence and dedication of staff across the University," Professor Byrne said.
"Monash is committed to supporting innovation in education and research, and by acknowledging exceptional staff we recognise their important contributions in establishing Monash as a world leading university."
The Vice-Chancellor's Education and Research Awards also offer a vehicle through which recipients are endorsed by the University to apply for a national Citation award from the Office for Learning and Teaching (OLT).
Vice-Chancellor's Education and Research Awards:
Vice-Chancellor's Award for Excellence in Postgraduate Supervision Professor Lenore Manderson
Faculty of Medicine Nursing and Health Sciences
Vice-Chancellor's Award for Excellence in Research by Early Career Researchers
Associate Professor Andreas Fouras - Faculty of Engineering
Vice-Chancellor's Award for Excellence in Innovation and External Collaboration
Professors Patrick Sexton and Arthur Christopoulos - Faculty of Pharmacy and Pharmaceutical Sciences
Professor Jayantha Kodikara - Faculty of Engineering
Vice-Chancellor's Award for Programs that Enhance Learning
Mrs Robyne Bowering and Ms Denise Athanasopoulos, Faculty of Education
Vice-Chancellor's Award for Teaching Excellence
Dr Leonie Kronborg - Faculty of Education
Dr Stephen Maloney – Faculty of Medicine, Nursing and Health Sciences
Dr Kris Ryan - Faculty of Engineering
Vice-Chancellor's Award for Excellence in Honours Supervision
Dr Timothy Cavagnaro - Faculty of Science