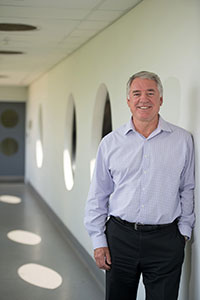 MIMR's Director Professor Bryan Williams was honoured with a Fellowship at the American Academy of Microbiology this year.
Prof Williams was elected to the Academy through a highly selective, annual, peer review process, based on his scientific achievements and original contributions to advance microbiology.
The Academy is an honorific leadership group within the American Society for Microbiology (ASM). It is the world's oldest an d largest life science organisation and serves as a resource to governmental agencies, industry, ASM a s well as the larger scientific and lay communities . Academy Fellows provide authoritative advice and information on critical issues in microbiology .
Prof Williams will attend a meeting in May in De nver to have his Fellowship formally recognised . "I hope my involvement in the Academy will allow me to bring new knowledge and experience in microbiology to MIMR and Monash University in future, " said Prof Wil liams .
Prof Williams has a distinguished career in innate immunity and virology research and has published more than 300 peer - reviewed journal articles and reviews.
He has made major contributions to our understanding of the antiviral mechanisms of acti ons of interferons, advancing their therapeutic utility .
His discoveries in the innate immune system in addition to providing new insights into our ability to fight infectious and inflammatory diseases have also opened up new therapeutic opportunities.
After receiving his PhD from the Department of Microbiology at the University of Otago in New Zealand he went on to do postdoctoral work in the United Kingdom .
Prof Williams was then awarded a Medical Research Council of Canada Scholarship and joined the world - renowned Hospital for Sick Children in Toronto Canada.
In 1990 he received the Milstein Award from the International Society of Interferon and Cytokine Research (ICICR) in recognition of his outstanding contributions to advancing interferon resear ch for the treatment of human diseases.
Prof Williams has received many awards during his career. The latest is the European Cytokine Society's Bolzmann Award for international collaborative research.