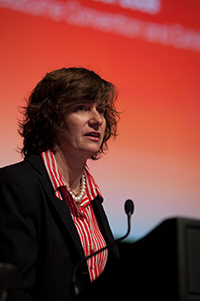 The Australasian College for Emergency Medicine (ACEM) has bestowed its 2013 Teaching Excellence Award upon Monash alumnus and senior lecturer Dr Diana Egerton-Warburton.
This prestigious Teaching Excellence award is given to Fellows of the College who have given distinguished and extensive service in teaching and learning for the ACEM.  The award acknowledges Dr Egerton-Warburton's significant and unselfish contribution to education in emergency medicine.
An emergency physician who strives for excellence and mastery in clinical and academic practice, Dr Egerton-Warburton is a passionate advocate for her patients as well as emergency medicine locally, nationally and internationally.
"I am very honoured and proud to receive the recognition from the College community," said Dr Egerton-Warburton. "This reflects over two decades' commitment to teaching and training undergraduate and postgraduate students."
Dr Egerton-Warburton is Director of Emergency Medicine research at Monash Emergency Department and a senior lecturer in Department of Medicine at Southern Clinical School.
"As the Director of Emergency Medicine training for over a decade, I have mentored and guided a generation of emergency medicine specialists," said Dr Egerton-Warburton. "Many of these specialists now have leadership and teaching roles at Monash Health and nationally."
After completing a master's degree in Clinical Epidemiology at Monash University in 2008, Dr Egerton-Warburton embarked on a mid-career change into academic emergency medicine. Since then she has presented at more than twenty national and international meetings and has published a number of peer-reviewed papers and textbook chapters.
Dr Egerton-Warburton's latest research focuses on pragmatic, patient-centered research, which she believes will change emergency medicine practice.
Collaborating with the Monash Health infection control unit and emergency department (ED), Dr Egerton-Warburton's study of used IV cannula has recently been accepted in the prestigious Annals of Emergency Medicine.  Her paper demonstrates that half the IV cannula inserted at Monash ED are unused. Consequently, Monash Health is now undertaking a follow up intervention, which will reduce costs, patient discomfort, Staph bacteremia rates and save ED time.
"I have always endeavoured in my career to 'make a difference' to my patients and the health system they interact with," added Dr Egerton-Warburton.