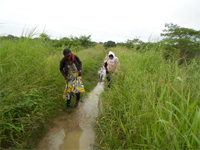 Dr Bianca Brijnath (right) in Itezhi-Tezhi district, Zambia
1 March 2012
Fire ants and elephant-friendly traffic were all part of one Monash researcher's recent training stint in Sub-Saharan Africa.
Earlier this year Dr Bianca Brijnath spent three weeks in Zambia as part of a World Bank program, where she supervised a research team interviewing health staff at rural health facilities.
The team conducted 81 interviews as part of baseline evaluation of a World Bank-funded initiative. It is anticipated that the results will shed light on the motivation and job satisfaction of rural health workers in low income countries, the challenges and innovative methods they use to deliver healthcare, and yield a deeper understanding of the social and cultural context in which care is delivered.
"It was an amazing learning experience," Dr Brijnath said.
"We did four days of theoretical training in Lusaka and then we were into the field. The research settings were very different to how we might do things in Australia.
"Our team had to deal with the rainy season, roads that had been washed away, poor to no mobile coverage, malaria, and lots of wildlife - everything from elephant crossings to spiders and fire-ants!"
For Dr Brijnath, who specialises in cross-cultural research and mental health research, the experience allowed her to appreciate her own work conditions in Australia.
"Working in such settings gives you a totally different perspective and insight into planning and conducting research. You have to think carefully about the science and the logistics of what you are trying to do versus what is feasible."    
Dr Brijnath currently holds an NHMRC Early Career Fellowship and is a researcher with the Department of General Practice in the Monash Faculty of Medicine, Nursing and Health Sciences.