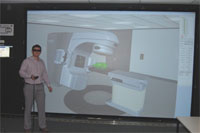 Graduate radiation therapists will be better prepared to provide quality treatment and patient care thanks to a new 3D training facility about to open in Melbourne.
The new virtual radiotherapy treatment (VERT) rooms will offer students completing Monash University's Master of Medical Radiations (Radiation Therapy) life-size patient-centric visualisations to help with the development of their clinical skills.
Richard Oates from Monash University's Department of Medical Imaging and Radiation Sciences said VERT will allow students to learn many of the skills necessary for the safe treatment of patients.
"Previously students gained their experience in the clinical situation once they had commenced their clinical rotations. Now, the new technology will allow the students to practise the skills they will need to deliver safe and accurate treatment before starting to work in clinics," Mr Oates said.
"The virtual radiotherapy treatment room will allow students to learn these skills in a safe and comfortable environment, free from the pressures of the clinical situation."
Previously, students were taught through tutorials, gaining their experience once they started work in clinics. Now, with some the training done in the virtual treatment room, patients will benefit from students who are more focused on patient care.
"Cancer treatment is a stressful time of the patient's life, so it is important that we can train our future radiation therapists to be competent and confident," Mr Oates said.
"By practising their treatment skills in the virtual room, our students will have the knowledge and confidence to perform treatments, thereby reducing the length of time required for treating a patient. This will result in better outcomes for both the patient and the practitioners."
The theoretical units of the course are delivered off-campus, and with VERT rooms currently being set up in Melbourne, Sydney, Newcastle, Adelaide and Brisbane, students will be able complete their course closer to home.
Monash University along with RMIT, the University of Sydney, the University of Newcastle, the University of South Australian,  Queensland University of Technology and the Department of Health and Ageing will develop a national VERT Academic Community of Practice to create a bank of learning resources.
The VERT project is funded by the Commonwealth Government of Australia and the Department of Health and Ageing.