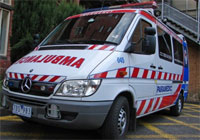 A study investigating the increasing demand for ambulance services by an ageing population has earned Monash University's School of Public Health and Preventive Medicine the prestigious 2012 Stawell Prize.
The study
looked into the drivers of demand for emergency ambulance services across metropolitan Melbourne.
Researchers, led by
Dr Judy Lowthian
, analysed data collected by Ambulance Victoria for all emergency ambulance transportations in metropolitan Melbourne over a 14-year period from 1995 to 2008. They also modelled demand in the financial year 2014–15.
The study, published in the
Medicine Journal of Australia
, found a rise in emergency transportations over the study period, beyond that expected from demographic changes. The increase was disproportionately driven by older patients, with the very elderly (aged 85 years or more), eight times as likely to be transported as those aged 45-69 years over the time period.
Head of the Monash University Department of Epidemiology and Preventive Medicine and School of Public Health and Preventive Medicine, Professor
John McNeil
and Dr Lowthian accepted the award.
"I am pleased to accept this award on behalf of the Monash University School of Public Health and Preventative Medicine and I applaud the work of those involved," Professor McNeil said.
"It is hoped this knowledge will contribute to better understanding the reasons for the increase in demand for ambulance services and the associated issues."
The annual Stawell Prize is awarded for a piece of research 'on a medical subject of clinical significance, which is original, evidence-based and likely to advance knowledge, influence clinical practice and improve the health of Australians.