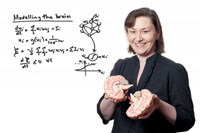 The talent and dedication of some of Monash University's outstanding staff members has been recognised at the second annual Vice-Chancellor's Education and Research Awards.

The awards ceremony held in Melbourne last night, recognised and celebrated the outstanding contribution and achievements of educators and researchers from across the University with disciplines from pharmaceuticals to physics represented by the 14 award recipients.

Monash Provost and Senior Vice-President, Professor Edwina Cornish announced the three research honours which were awarded for postgraduate supervision, excellence in research by an early-career researcher and excellence in innovation and external collaboration.

Challenges such as bridging the industrialisation gap in pharmaceutical manufacturing to the science behind light metal corrosion are being addressed by research award recipients.

The six Education awards and five citations announced by Deputy Vice-Chancellor (Education) Professor Adam Shoemaker, recognised teaching excellence, outstanding contributions to student learning, excellence in honours supervision and programs that enhance learning.

Exemplary educators representing diverse learning programs received awards from Dr Ernest Koh for his sustained contributions to the innovative teaching of history to Dr Richard Reina, who has a senior leadership role in the development of talented science students.
The Honourable Louise Asher MLA, Minister for Innovation, Services and Small Business, and Minister for Tourism and Major Events presented the awards to all 14 recipients.
Vice-Chancellor and President Professor Ed Byrne congratulated award recipients on behalf of the University.

"Following the introduction of the awards last year, the number and standard of nominations has grown significantly, highlighting the level of excellence and dedication of our valued staff," Professor Byrne said.

"In acknowledging exceptional staff, we recognise their important contributions in establishing Monash as a leading university with a world-class reputation.

"The innovation and excellence of our people underpins the foundations upon which we continue to build the future of the University."
Vice-Chancellor's Education and Research Awards:

Vice-Chancellor's Award for Postgraduate Supervision
Professor Kate Smith-Miles, Faculty of Science

Vice-Chancellor's Award for Excellence in Research by Early Career Researchers 
Associate Professor Nick Birbilis, Faculty of Engineering

Vice-Chancellor's Award for Excellence in Innovation and External Collaboration
Associate Professor David Morton, Faculty of Pharmacy and Pharmaceutical Sciences

Vice-Chancellor's Award for Programs that Enhance Learning
Associate Professor Lisa McKenna and Jill French, Faculty of Medicine, Nursing and Health Sciences

Vice-Chancellor's Award for Excellence in Honours Supervision
Associate Professor Stephen Robinson, Faculty of Medicine, Nursing and Health Sciences

Vice-Chancellor's Award for Teaching Excellence
Dr Allie Clemans, Faculty of Education
Dr Richard Reina, Faculty of Science
Associate Professor Peter Howard, Faculty of Arts

Vice-Chancellor's Citations for Outstanding Contribution to Student Learning 
Dr Ahmet Sekercioglu, Faculty of Engineering
Dr Ernest Koh, Faculty of Arts
Dr Patricia Yin Yin Lau, Malaysia School of Business, Faculty of Business and Economics
Dr Kevin Pimbblet, Faculty of Science
Suzanne Caliph, Faculty of Pharmacy and Pharmaceutical Sciences