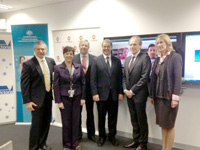 A landmark initiative, underpinned by Monash University research into the potential capabilities of telemedicine via the National Broadband Network (NBN), will improve access to treatment for Cystic Fibrosis (CF) patients across regional Victoria.

Minister for Broadband, Communications and the Digital Economy, Senator Stephen Conroy, and Victorian Minister for Health and Ageing, David Davis announced funding in excess of $3 million through the Digital Regions Initiative (DRI) provided by the Department of Broadband Communications and Digital Economy and the Victorian Department of Health.
Led by the Victorian Department of Health and the Cystic Fibrosis Service at AlfredHealth, in conjunction with rural health alliances (RHAs) and VicTrack, a state-owned enterprise, the Clinicians Online project will utilise high-speed broadband of the NBN to deliver high-capacity, video-conferencing. It will connect metropolitan hospitals with rural health alliances, significantly improving access for rural CF patients and clinicians to metropolitan health services.

The video-conferencing connection service using cloud infrastructure will initially be established to connect five Victorian rural health alliances, the Northern Territory and four major metropolitan hospitals in Melbourne.

Head of the CF Service at AlfredHealth Professor John Wilson, from Monash University's Department of Medicine, has led a team of Monash researchers in the development of the project.

"Clinicians Online will enable the connection of Cystic Fibrosis services to rural centres and deliver better outcomes for patients with Cystic Fibrosis who would otherwise not have the same level of access to care," Professor Wilson said.

"Via high-speed and high-capacity broadband, Clinicians Online enables clinical-grade, video-conferencing as well as real time transfer of imaging, including patient records and test results, to support clinical decision-making.

"Healthcare innovation arising from the effective use of digital technologies will ensure the best access to high-quality healthcare for an ageing population."

Professor Wilson said the project was capable of extending to a wide range of medical specialties, initially including renal medicine, infectious diseases and general medicine.  

In a submission to the Australian government parliamentary inquiry into the potential of the NBN, Monash researchers cited how improved internet capacity could deliver health benefits to the community and research benefits to industry, academic institutions and healthcare facilities.

Speaking at the official launch today, University Chancellor and Chair of the Monash University Council, Dr Alan Finkel AM, said the partnership between hospitals and universities provided the Australian community with the highest standard of healthcare.

"Today we saw a superb example of how a physician in Melbourne could provide emergency care to Cystic Fibrosis patients in Horsham and Ballarat, made possible by transformational technology, research and innovation," Dr Finkel said.

"The Clinicians Online project is a major contribution to realising the need for optimal video-conferencing capability and the integrated program will harbour a phenomenal future improving access to healthcare in the rural community."

It is hoped the project will reduce unplanned hospitalisation and travel costs for healthcare services and patients, and more efficient use of consultations with clinicians.

Projectpartners include AlfredHealth, the Royal Children's Hospital, Southern Health and Austin Health, as well as rural health alliances; Grampians, Loddon Mallee, Southwest, Hume and Gippsland.
Image: Professor John Wilson and colleagues at the launch of Clinicians Online.