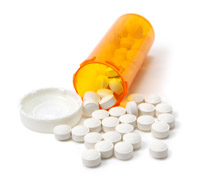 A new clot-busting drug therapy has achieved dramatic treatment benefits for acute stroke victims, according to a ground-breaking three-year study just completed by the HMRI Stroke Research Group.
In findings published today in the prestigious New England Journal of Medicine, two-thirds of patients treated with the drug Tenecteplase showed major neurological improvement within 24 hours and 72% enjoyed excellent or good recovery at the three-month milestone after their stroke.
Of those administered the standard drug Alteplase (tPA) during the Phase-2 trial from 2008-2011, only 36% showed improvement at 24 hours and 44% had good or excellent recovery at 90 days.
"This translational research project investigates the benefits of a new drug (Tenecteplase) to dissolve blood clots in the brain that cause stroke," said study author Professor Christopher Bladin from Monash University. 
"Clot-busting" therapy (known as thrombolysis) is one of the most powerful treatments we have to treat patients with stroke. Current drugs, while good, dissolve only about 50% of blood clots and may have a variable clinical response. What is remarkable about Tenecteplase is that it dissolved about 80% of blood clots, reduced the size of the stroke on the brain scan, and significantly improved the chances of an excellent clinical recovery."
"This was a discovery that took us aback. It was very impressive benefit over the standard treatment with Alteplase," study leader Associate Professor Mark Parsons from the University of Newcastle School of Medicine and Public Health, and Staff Specialist in Neurology at John Hunter Hospital, said.
"We have patients with severe stroke deficits returning to normal within two or three days."
The study used a rigorous selection criterion, with advanced CT perfusion imaging helping doctors identify patients mostly likely to benefit from clot-busting treatment. Almost 2800 people presenting with acute stroke symptoms were screened for the study within six hours of onset – of these, 75 were enrolled.
"Patients with a severe stroke who would be facing the prospect of lifelong disability or worse, potentially now can walk out of hospitals after only a few days if they were treated with this new drug," said Professor Bladin.  "While further research is needed, this translational research is a major advance in the treatment of stroke for which the Eastern Health Clinical School of Monash University will continue to play a vital role."
This groundbreaking stroke research was a multi-centre collaboration between John Hunter Hospital–Hunter Medical Research Institute, University of Newcastle, Department of Neurology, Royal Melbourne Hospital and Florey Neuroscience Institutes University of Melbourne, and the Department of Neurosciences, Box Hill Hospital–Eastern Health, Monash University.