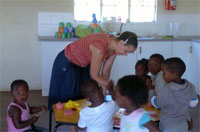 In South Africa, where one in eight people are living with HIV, Monash students had the opportunity to make a positive contribution to the community and those living with the disease.
Through the
Monash Oxfam Student Placement Program
,
Kristen Orazi was among 10 students who volunteered for local community-based organisations during a six-week period, participating in rural HIV/AIDS home-based care visits, supported after-school care programs, early childhood education programs and food security programming in the region.
Kristen, now a
Bachelor of Social Work
graduate, said the program was a unique experience and she encouraged students to consider applying for the 2013 program.
"Being placed within an international aid organisation where we were able to get involved and work with the African community was a valuable experience on an academic level. It also provided me with new knowledge which I have been able to apply to my work," Kristen said.
"I was placed in a childcare centre and spent time assisting staff to develop reporting tools. I was also able to apply my skills in social work and child protection and learn from local staff about their perspective and culture.
"Students who want to gain an international human rights perspective whilst helping those in need and learning a lot should consider applying for the 2013 program."
Program Manager Lisa Elford, from Monash University, said the program filled a niche for students wishing to explore their future career and academic options by experiencing community development work.
"Students gain an awareness of the issues affecting people living with HIV and AIDS in South Africa, an understanding of issues related to community development and build invaluable skills and knowledge that can be used in ongoing study and careers," Ms Elford said.
"To succeed in our mission to overcome poverty and suffering, we must break the cycle of cause and effect that links HIV and AIDS and poverty."
The program is funded through a
partnership between Monash University and Oxfam Australia
, which was established in 2008 to improve global poverty and health through the aid and development sector.
Applications for the 2013 Monash Oxfam in South Africa Student Placement Program are open until 22 August. Visit the Monash Oxfam in South Africa Student Placement Program website for further information and to apply.