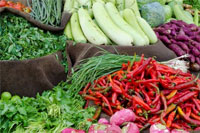 Securing a sustainable supply of nutritious food for a rapidly increasing world population is one of the most pressing issues facing governments and policymakers, according to new research.
The study, published in
Food Security
, by researchers from Monash University, Analysis International and the National Health Research Institutes, found more should be done to protect the quality and quantity of the world's food supplies.
Lead author, Emeritus Professor Mark Wahlqvist from Monash University's Asia Pacific Health and Nutrition Centre at the
Monash Asia Institute
, said governments needed to give food security as much importance as health, environmental issues and socio-political/human security. 
"Food security should be incorporated into the larger human security agenda in order to stress its relevance to conventional security requirements and to gain support for it of comparable or superior kind to that currently available for arms," Emeritus Professor Wahlqvist said.
"The world's current and future health are far more dependent on food security than people think - every body system and organ is nutritionally dependent and, therefore, at risk with food insecurity."
The research looked at food security in the Asian region, but Emeritus Professor Wahlqvist said it was a world-wide problem to produce enough affordable and nutritious food in environmentally sustainable and socially acceptable ways for a human population of more than seven billion.
"In spite of recent growth – or in some cases because of it – Asia faces particularly daunting food problems," Emeritus Professor Wahlqvist said.
The research found that extensive resources and innovative socio-political structures were needed to deal with the many shifts in food security.  Concerted efforts in family planning and enlightened migration are urgently required to reduce the growing mismatch between food supply and need in the world.
"Governments must make a major effort to develop food systems which are minimally dependent on non-renewable energy sources and maximally dependent on solar, geothermal or tidal energy," Emeritus Professor Wahlqvist said.
"Sustainable ecosytems are shrinking and disappearing and we're foolish if we think we are a species that can be viable without them."
The researchers also recommend giving greater support to public nutrition policy to encourage varied plant-based diets and discourage animal-based diets, which score poorly on sustainability, equity and affordability.
"The optimal human diet, basic for our food security, is one of biological variety and depends on diversity. If we continue to destroy our ecosystems or the places that produce our food, then human security is in jeopardy," Emeritus Professor Wahlqvist said.