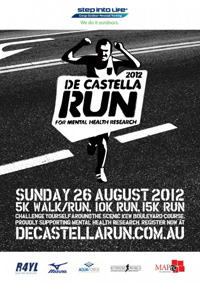 Join the fight against mental illness by participating in the Step into Life de Castella Run.

Through the run, which is organised by the Monash Alfred Psychiatry Research Centre (MAPrc) and supported by Monash Sport, competitors and volunteers can help the one in five Australians affected by severe mental illness.

The run began in 1981 in honour of the achievements of Olympian and world champion runner Robert de Castella.

MAPrc manager and Robert's brother, Anthony de Castella, said about a third of people with mental illness did not respond to available treatments, and the event was a good way to help them.

"The impact of mental illness on these people's lives, their families, and their careers is huge," Mr de Castella said.

MAPrc is a clinical research centre dedicated to finding new treatments. It is unique in that MAPrc researchers are developing treatments for mental illness in all age groups.

Supporting MAPrc through the de Castella run allows them to continue this important research. Participants can compete in the 5km walk/run, the 10km run or the 15km run around picturesque Kew Boulevard. Prizes will be given to the first, second and third male and female place-getters in each race, as well as to team event winners and the highest fundraisers.

"By taking part in the run or volunteering, you're helping to raise awareness about mental illness and raise funds for new treatments," Mr de Castella said.

Registrations are now open on the MAPrc website. For volunteering opportunities, email participants@monash.edu or call +61 3 9905 1073.

The de Castella run will be held from 7.45am on Sunday, 26 August 2012 at Kew Boulevard. All events start and finish at Burke Hall, Nolan Avenue, Kew. For more information visit the Monash Sport website.