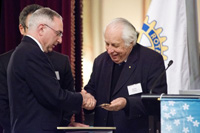 One of Australia's most distinguished neurosurgeons, who pioneered a surgical technique to remove rare tumours from the brains of children, has been awarded the prestigious 2012 Monash Medal by the Rotary Club of Melbourne.

Professor Jeffrey Rosenfeld AM, Head of Monash University's Department of Surgery and Director of the Department of Neurosurgery at The Alfred hospital, was honoured for his outstanding leadership, integrity and service throughout his career in a ceremony at the Rotary Club of Melbourne last week.

During a career spanning more than four-decades, Professor Rosenfeld is best known for devising an operation at the Royal Children's Hospital in the 1990s, to remove hypothalamic haematomas from the brains of children.

Professor Rosenfeld said he was honoured to receive the award presented by 2010 recipient Professor Sir Gustav Nossal, one of Australia's eminent scientists, accompanied by Melbourne Rotary Club President Mr Clive Weeks.

"I am humbled to receive this prestigious award and proud to have been considered alongside previous recipients Professor Nossal and Professor Patrick McGorry," Professor Rosenfeld said.

"Throughout my career I have tried to emulate the humanitarian values and leadership qualities of General Sir John Monash who clearly placed  'service above self' and helped make Australia the great country it is today."

Professor Rosenfeld's recent innovations include spearheading the development of a new Neuroscience Institute at Monash in his quest to improve the outcomes for patients with severe traumatic brain injury and the Monash University bionic eye that could restore sight to the blind.

Monash University Vice-Chancellor and President, Professor Ed Byrne congratulated Professor Rosenfeld on the award.

"This award exemplifies Professor Rosenfeld's repute as a leader in his field recognising his remarkable achievements and commitment to excellence and service," Professor Byrne said.

"We congratulate Professor Rosenfeld on his recognition through the 2012 Monash Medal bringing much honour to him personally and to the Monash community."

In 2011 Professor Rosenfeld was appointed a Member of the Order of Australia (AM) describing it as the culmination of his devotion to medicine and his patients over many years. He is one of Australia's most senior military surgeons, a Major General in the Australian Defence Force and past Surgeon General (Reserves).

Now in it's third year, the Monash Medal is awarded annually in recognition of the core values of the late Sir John Monash – Leadership, Integrity and Service.