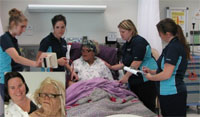 A novel education tool is providing trainee nurses with a better understanding and practical knowledge of administering health care.
Nursing students at Monash University's Berwick campus are among the first in the world to use MaskEd, full-body silicone masks, as part of their education.
MaskEd requires lecturers to don Hollywood-like disguises of patients to act out various health scenarios with students. The program employs silicon masks as well as wearable body parts including torsos (with working appendages), arms (with veins for injections and cannula drainage), hands with radial pulse, and feet with excreting wounds, enabling students to get further hands-on experience.
Head of the School of Nursing and Midwifery at the Berwick campus Associate Professor Simon Cooper, said with an ageing population and greater incidence of chronic disease, there was a growing need to educate nurses on how to relate to and treat elderly patients in hospitals and the community.
"Over the three-year nursing program, the students get to know these 'patients' from a first meeting when they take a health history and conduct basic health checks, to providing ongoing long-term care as the characters' health conditions develop," Associate Professor Cooper said.
The MaskEd program, part of the Bachelor of Nursing with Community Health at Berwick campus, adds a new dimension to health care training that many preparatory nursing courses do not. It was designed to give students a broader range of skills than those taught in traditional nursing programs.
"The success of the program as a training device is that there are no prepared scripts so the lecturers inside the suits are able to develop story lines as they interact with the students," Associate Professor Cooper said.
"Actors would need to stick to a script, where as the lecturers, many of whom have worked in the health industry, are able to draw on their experiences in the health care industry and deliver a more life-like performance requiring the students to respond as they would in real life."
Dolly and Bob, the two characters who regularly visit Berwick, present basic health concerns to first-year students, building in complexity as the course progresses.  
"MaskEd and other simulation activities used throughout the course at Berwick reinforce the material student nurses learn in lectures and tutorials," Associate Professor Cooper said.
"These activities really do help give the students a better understanding of what they're learning."