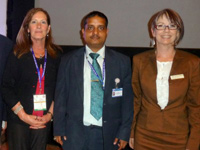 Monash University staff have been warmly welcomed at the 50th Golden Jubilee Conference of the Indian Physiotherapy Association in India.
Last month's celebrations included a keynote address from Director of Allied Health, Professor Jenny Keating, from the Faculty of Medicine, Nursing and Health Sciences.
Professor Keating's address highlighted progressive features of the Monash Physiotherapy Program, such as the Assessment of Physiotherapy Practice (APP) instrument developed to measure competency to practice physiotherapy, which is now the national standard.
Dr Susan Slade, from the School of Primary Health Care and Office of the Pro-Vice Chancellor (Learning and Teaching), presented the results of her doctorial studies on non-specific low back pain.
Professor Keating said both presentations generated lively questions and discussions.
"There was a dynamic collaborative atmosphere and a wealth of invitations to pursue future relationships and collaborations in education and research," Professor Keating said.
"We enjoyed the research presentations of our Indian colleagues and learned about issues facing the profession.
"The size of the profession (more than 80,000 practitioners) and the number of programs (more than 2000) make Australian physiotherapy operations seem small in scale by comparison."
Both Professor Keating and Dr Slade were welcomed to the event by the president of the Indian Physiotherapy Association, Dr Umshankar Mohanty. The conference ran from 16-18 March in New Delhi, India.