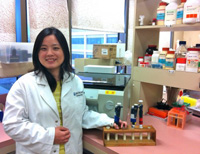 A Monash PhD student has received international recognition for her research in rheumatoid arthritis.

Ms Ran Gu, who was supervised by Professor Eric Morand, has been awarded a 2012 Felix Bronner Young Investigator Award from the American Society of Bone and Mineral Research (ASBMR) for her abstract presentation "Macrophage Migration Inhibitory Factor (MIF) Promotes Osteoclastogenesis, RANKL Signaling and Arthritic Bone Erosion".

The award is given to the highest-ranking abstract submitted by a young investigator with a focus on bone, indicating that Ms Gu's work has met the highest possible standard of achievement.

As an ASBMR Felix Bronner Young Investigator Award recipient, Ms Gu received a $1000 honorarium and a plaque commemorating this award, presented during the ASBMR President's Reception held last Sunday. 

Ms Gu's work focuses on the naturally occurring protein MIF (macrophage migration inhibitory factor) and its role in bone damage during rheumatoid arthritis. As bone damage is the ultimate problem in rheumatoid arthritis, resulting in permanent deformity and loss of function, identification of mechanisms of this process is of great value and may lead to the application in the future of anti-MIF treatments for rheumatoid arthritis. 

Ms Gu aims to complete her PhD studies in early 2013, and then continue arthritis research in another lab. This award will help her achieve her dream of working in a prestigious research lab overseas, building towards her return to Australia. 

The award was recently established in honour of Felix Bronner, Ph.D., Professor Emeritus, BioStructure and Function at the University of Connecticut Health Center.
Ms Gu's research was made possible by major support and funding from the Ulysses Club.