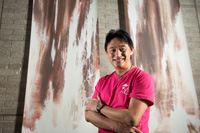 World renowned scientist, philanthropist and artist Dominic Man-Kit Lam donated one of his unique "chromoskedasic" paintings to the Department of Physiology at their 50th anniversary celebration event on 26 October.

With degrees in Mathematics and Physics and a PhD in Medical Biophysics, Lam is a former professor of Ophthalmology and Director of the Centre for Biotechnology at Baylor College of Medicine in Houston.  Lam undertook postdoctoral training and later lectured at Harvard Medical School.

Lam established the first biotechnology company in Texas in 1985, which he sold four years later for US$30 million, enabling him to focus on his philanthropic activities and art.

In 1999, Lam founded the World Eye Organisation (WEO), a charity that helps prevent and treat eye diseases in China and other third world countries.

Today, Lam is regarded as one of the greatest modern Chinese artists, having invented a novel painting process called chromoskedasic painting, or "nano art". This process is based on light scattering and allows the artist to create colour images using black and white photographic paper and solutions, without the use of dye or pigment.

The chromoskedasic process enables artists to produce shapes and colours through different light intensities and time reactions of photo processing, rather than applying tactile material pigments.

Lam used the chromoskedasic process to create the artwork he has given to the Department of Physiology.  The painting, measuring 2.4 x 6 metres and called "Heaven on Earth", represents a waterfall.

"The essence of my process is to create colour and spontaneity using only black and white photographic solutions and paper," said Lam. "I chose the concept of heaven and earth because this is a medical facility and you help people. Having a medical facility on earth symbolises a paradise that helps others."

Professor Iain Clarke, Head of the Department of Physiology was delighted to receive the painting on behalf of the Department. "With important events like our 50th anniversary, it is important to step back and see what we have achieved as well as to look forward," said Professor Clarke. "The celebration of milestones can be perpetuated in the form of a work of art and Lam's painting will serve as a continual symbol of our enduring legacy."

In China, water is the symbol of good fortune," said Lam. "This painting of a waterfall represents my wish for happiness and good fortune for Monash University and the Faculty of Medicine." Lam's painting will be permanently displayed in the Physiology building.