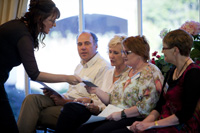 Ten organisations involved in health education, delivery or community wellbeing in the Loddon Mallee region joined the School of Rural Health's Bendigo Regional Clinical School for dinner in November to discuss each other's major strategic issues.
Director of the Bendigo Regional Clinical School, Professor Geoff Solarsh, said that a school of rural health, as well as training health professionals, has a mandate to improve the health of regional and rural communities.
"All the organisations we invited share that mandate and we have many challenges and interests in common," said Professor Solarsh.
"Bringing people face-to-face over dinner for a facilitated conversation seemed the most powerful way to highlight those commonalities and foster collaborative approaches to the future."
The 11 organisations that took part were Bendigo Community Health Services, Bendigo Healthcare Group, Bendigo TAFE, Beyond Medical Education, City of Greater Bendigo, regional Department of Health, Latrobe Rural Health School, Loddon Mallee Murray Medicare Local, Monash University, St John of God and St Luke's.
Each organisation was asked to bring one key strategic interest to the dinner to seek the perspective of other organisations.
Dr Natalie Radomski, who represented Monash University at the dinner, said the process revealed how health education and professional learning can help shape the aspirations of regional health services. "It really demonstrated how we can better fit into those services," she said.
John Mulder, CEO of Bendigo Healthcare Group, presented the organisation's challenges around the care of patients at the end of their lives. "It was a wonderful sounding board for a challenging question," he said, "and the discussion re-enforced that we're on the right track."
St Luke's is a not-for-profit community organisation operating across north central Victoria and southern New South Wales. While St Luke's has many strong relationships in the region, CEO, David Pugh, said the dinner gave the organisation the opportunity to have conversations with agencies they don't usually partner with. "The forum's model resulted in rapid generation of ideas and a lateral approach to complex issues."
The ideas generated were documented at the forum and will be distributed to community organisation CEOs. The dinner was one of many events organised by School of Rural Health sites to mark its 20th anniversary in 2012.
"We hope this is just the inaugural event," said Professor Solarsh. "We plan to host future forums to help maintain the conversations that started at this dinner."
Starting the conversation: Monash's Kerrie Thomsen briefs the first four presenters at Bendigo Regional Clinical School's Community Conversation dinner in November.

Image caption: Left to right: Kerrie Thomsen, Manager Bendigo Regional Clinical School; Dr Richard Bills, CEO Beyond Medical Education; Karen Laing, Acting CEO St John of God Bendigo; Dr Natalie Radomski, Whole of System Clinical Placement Project.