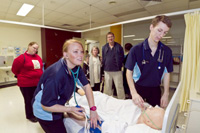 The world's first laws requiring compulsory seatbelts in all new cars and Australia's first IVF babies are among the biggest contributions in the world to the medical field by Monash University researchers.

For those born to save lives, the prospect of joining a world-leading environment will inspire as Australia's largest University showcases its facilities and courses at Monash Open Day 2012 on 4-5 August.

Open Day is about getting questions answered, exploring medical career options to see which courses could be a good fit, speaking with staff or current students and taking part in workshops and tours across the University's six Victorian campuses.

Dean of the Faculty of Medicine, Nursing and Health Sciences, Professor Christina Mitchell said aspiring students were encouraged to explore the University's laboratory spaces, research facilities and the medicine, biosciences and allied health courses on offer.

"Open Day at Monash represents the opportunity for prospective students interested in medicine, biomedicine, nursing and health sciences to invest in their future and fulfill their ambitions within Australia's largest health faculty," Professor Mitchell said.

"At Monash, we not only prepare students to enter their respective health professions with an excellent grounding in knowledge and problem solving, but produce leaders who champion equity and social inclusion."

Emergency helicopter landings, CPR demonstrations and live simulated births are just some of the activities being hosted by the Faculty's undergraduate schools and departments on Open Day. Free entertainment and food will be on offer at every campus across the weekend.

The Faculty offers a range courses for future health professionals including doctors, nurses, midwives, psychologists and neuroscientists, social workers, occupational therapists, physiotherapists, paramedics and dieticians.

Meanwhile, there will be information and demonstrations across all campuses including teaching and education, communications and media, science, arts and English studies, sport, plus much more.

More than 100 student ambassadors, wearing unmistakable blue uniforms, will be on site across the weekend to help visitors find their way around campuses.

Monash University Open Day will take place on Saturday 4 (Berwick, Gippsland and Peninsula) and Sunday 5 August (Caulfield, Clayton and Parkville).

To help make the most of Open Day 2012, visit the website - the new online planner allows you to explore and choose from over 600 event activities.