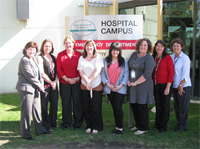 Bairnsdale Regional Health Service is proud to be supporting two undergraduate Monash University nursing students on exchange from Huddersfield University, United Kingdom.

Wendy Simpson and Tara Zaferanlou will be spending 4 weeks with BRHS, rotating through the emergency department and district nursing. This program, run in conjunction with Monash University Churchill Campus, will provide them with a comprehensive overview of BRHS services and diverse patient presentations.

School of Nursing & Midwifery, Monash University International Exchange Clinical Coordinator, Ainsley James said, "BRHS's diverse range of clinical services and patient presentations provide an excellent opportunity for Wendy and Tara to gain important clinical knowledge and skills in a new cultural environment. We are looking forward to working with BRHS to develop Wendy and Tara's skills and to make the most of their time in Australia."

BRHS is excited to be involved with the international exchange program, with Wendy and Tara being the first international exchange nursing students to come to East Gippsland to study.

Undergraduate Nurse Facilitator, Lyn Davies said, "The undergraduate nurse exchange program is a great opportunity for BRHS and the East Gippsland community. We are looking forward to sharing our experiences with patient care and service delivery with Wendy and Tara and hope that they enjoy their time in Australia."

Wendy and Tara are also looking forward to getting involved with the community and doing some local sightseeing around East Gippsland.

School of Nursing & Midwifery, Monash University International Clinical Administrator, Cheryl Hutchinson said, "Bairnsdale is a great town to host international students. Bairnsdale's close proximity to the beach, ski fields and bush activities will ensure that Wendy and Tara have plenty to see and do in their time off."

Acting CEO, Michele Gardner, echoed Lyn's comments and expressed her best wishes for Wendy and Tara, "On behalf of Bairnsdale Regional Health Service, I would like to thank Monash University for helping to arrange the international nursing exchange program. I also hope that Wendy and Tara are provided with many opportunities to learn and develop during their time with BRHS."

Wendy and Tara have commenced their placement with BRHS, with Wendy's first placement being in emergency and Tara's first placement being in district nursing.