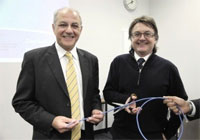 Monash University has invested $263,000 to upgrade Southern Health's wireless infrastructure, resulting in the launch of Monash WiFi at the Monash Medical Centre last week.
Professor Eric Morand, Head of the Southern Clinical School said staff and students can now access the Monash network wirelessly while studying or working at Southern Health.
"Joint broadcast of the Southern Health network ensures clinical staff have simultaneous access to live clinical data and students and staff with both clinical and academic needs now have the best of both worlds."
Professor Morand said staff and students have come to expect high standards of IT access during their learning and working journeys.
"As the largest clinical school in the University's largest faculty, we are very proud to be the first to offer a seamless Monash IT environment to our students and staff," Professor Morand said.
Monash University and Southern Health continue to develop their relationship in healthcare research and education, and this joint IT initiative is an important milestone.
"I'm very excited that Monash has been able to deliver this with Southern Health. It's not only a very practical advance with immediate benefits, it's also representative of a very important partnership between our organisations."
As well as Eduroam access at Monash Medical Centre, Monash WiFi will also be rolled out at Dandenong Hospital and Kingston Hospital, which will significantly benefit Monash staff, students and ultimately patients at these hospitals.
"This is the first step of a long range plan for educational upgrades across Southern Clinical School, including all Southern Health hospital sites," said Professor Morand.
"In the future we aim for a modernised integrated learning environment in close partnership with Southern Health."