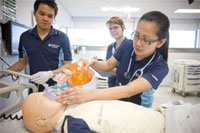 Monash health students will benefit from a fresh new learning environment, thanks to funding through Health Workforce Australia (HWA).
The Epworth Eastern Education Centre, built by Epworth Healthcare and designed in consultation with the University, is a new clinical skills and simulation centre, which opened on Tuesday 30 October in Elgar Hill Medical Suites in Box Hill.
To support the training of undergraduate health students, the centre includes a three-bed simulation space - including an area for an operating table and a scrub sink, a control viewing office area, and two tutorial rooms with interactive video-conferencing ability.
Mr Mark Cormack, CEO of HWA, said the grants distributed through HWA are part of the Federal Government's commitment to addressing the health workforce shortages in Australia by building capacity in the health workforce.
"We are delighted to support the increase in clinical placements for undergraduate students to Epworth HealthCare. The grant to Epworth of $1,905,445 supported the capital purchase and fit-out of the new centre," Mr Cormack said.
Monash University Head of School Nursing and Midwifery, Professor Wendy Cross said the area inside the centre was designed to be versatile and multifunctional, allowing small group tutorials, facilitated discussions; clinical skills sessions using part-task trainers and large group presentations.
"The simulation area is one particularly appreciated by undergraduate students in the health setting as they can practice their skills on high-fidelity mannequins in a team setting – using live audio-visual and video debriefing tools for instant feedback," she said. 
Epworth HealthCare is the largest not-for-profit private hospital group in Victoria, providing acute medical and surgical services and rehabilitation to more than 120,000 in-patients annually.
HWA is a Commonwealth statutory authority reporting to the Australian Health Minister's Conference.