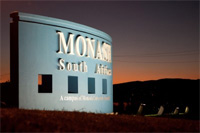 17 October 2012
Monash South Africa (MSA) will offer a postgraduate Diploma in Management focusing on HIV/AIDS and health from 2013.
The one-year online course will assist African governments' plans to improve the management of health care available to all Africans and the millions of people who are on anti-retroviral treatment for HIV.
Head of the MSA School of Health Sciences, Professor Geoffrey Setswe, said the introduction of this course at MSA was a step in the right direction for improving the management skills of health and other professionals in Africa.
"This course will go a long way towards equipping health personnel with the much-needed managerial expertise," Professor Setswe said.
The course prepares health and social science practitioners to manage health and HIV/AIDS services. It is designed to improve their employability and prepares them for entry into the masters programs in health sciences and social sciences, such as psychology.
"The good news is that if we have a substantial number of students from any province or country we will consider offering a summer or winter school in that province," Professor Setswe said.
In most African countries, policy workers managing health and HIV/AIDS programs must have a health qualification and be trained in management of health services. Local governments are also in constant need of clinic, hospital, district, provincial and national health managers.
The MSA course caters to the needs of government, non-government and private health services and is made up of six core and two elective units.
Dr Henry Fomundam BSP, PharmD, who is currently the Regional Director (Africa) for Howard University's Continuing Education, HIV/AIDS Pharmaceutical Care program, will be teaching some of the units.