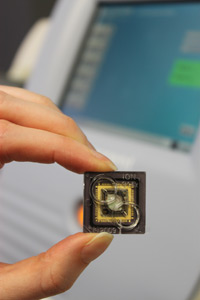 15 October
Monash Institute of Medical Research (MIMR) is hosting the official opening by the Minister for Regional Australia, The Hon. Simon Crean, of the Australian Cancer Research Foundation Centre for Cancer Genomic Medicine, which will accommodate a major genomics centre that will shape the future of cancer research and therapy at the Monash Health Translation Precinct.
MIMR Director Professor Bryan Williams said the new centre, funded by ACRF's $1.6million grant, houses vital next-generation equipment providing researchers with the access to genetic profiles of specific cancers.
"This information is critical to the development and application of anticancer drugs tailored to individual patients," Prof Williams said. "By having the latest in DNA sequencing technologies, called second and third generation platforms, we hope to use molecular-based patient tumour profiles for everyday cancer patient management."
Prof Williams said the establishment of the new ACRF Centre for Cancer Genomic Medicine allows greater insight into the nature of the genes involved in cancer.
"This grant from ACRF has addressed an unmet funding need in the area of technology development" he said.
"This will be invaluable not only for cancer prognosis, but also for identifying patients that may or may not respond to new therapies," he said. "This means patients will not need to be exposed to drugs unnecessarily but may be candidates for new therapies."
"Molecular-based patient profiles will play an ever-increasing role in cancer patient management. The impact is already being seen in diagnosis, prognosis and therapeutic applications.
"Analysing genes in this way will not only be essential in providing a better understanding of the molecular changes underlying cancer development and progression, but also in identification of new therapeutics targeted towards a specific cancer," Prof Williams said.
"This is a crucial step towards more rapid identification of effective cancer drugs."
This is critical to enable cancer researchers not only to advance the discovery process to access new technologies, but also to fast-track research and provide new outcomes to cancer patients.
"While the ongoing support of the Federal and State Governments is essential for underpinning medical research in Australia, competing needs within their health budgets limit their ability to fund expensive, yet vital infrastructure. The ACRF fills this vital niche and has done so for almost three decades." said Professor Williams.
The Australian Cancer Research Foundation is the largest, private funding body for cancer research in Australia, awarding up to $10 million every year for cutting-edge technologies and facilities.
"Great research outcomes are achieved when the very best scientific minds are able to work with the most advanced equipment available, The research team at Monash are amongst the very best in Australia." said ACRF Chairman, Tom Dery.
"This is the surest way to speed up discoveries, and eliminate the suffering that cancer brings to so many around the world.
"We are proud to support the team at Monash in their fight to better understand cancer profiles and treat this terrible disease with targeted, individualised therapies. These personalised treatments are truly the future of cancer research and we're thrilled to be a part of the success story."
Mr Crean said the Federal Government provided funding of $71 million for a new building (including this Centre) making it Victoria's first multidisciplinary research facility.
"The Federal Government's Health and Hospital funding will reinforce this Precinct's reputation as a world leader in translating innovative scientific discovery into the best possible patient outcomes," he said.
The Hon. Simon Crean will be opening the ACRF CCGM at midday on Monday 15 October at MIMR, 27-31 Wright St, Clayton – all media are welcome to attend.